Frenquently asked questions
How does your agency's website design process work?
The process of creating a website begins with a design phase where we work closely with you to understand your needs and create a unique visual identity. Then our development team takes over to transform the mock-ups into a functional website. After rigorous testing and revisions, we launch. As for our 'Express' formula, it offers you the chance to get a complete website up and running in just 7 days, without the usual customer validation steps. You provide us with the essential information, and we take care of everything else, so you can save time and get your business website up and running fast.
How to create a professional website?
A well-designed, well-referenced website can have a significant impact on many businesses. It plays a crucial role in supporting business growth by doing some of the sales prospecting work for your company. They act in a different and complementary way to salespeople. Whatever the situation, the aim of your website is to help generate sales for your company.
Creating a professional website can't be improvised, which is why there's no such thing as a free professional website. Professionals are paid for their expertise. Using a free tool often means that the company offering it is hoping to entice you to upgrade to a paid package, or that your data is the product. This is our opinion on free websites. It's essential not to sacrifice quality by looking for the cheapest solution, as this usually means wasting time and money. The aim should always be to get the best solutions for your needs, rather than the lowest budget.
How does your agency measure the success of SEO projects?
We measure the success of SEO projects by using traffic analysis tools to track the number of visitors and their behavior on the site. We also use positioning tracking tools to measure the evolution of the site's position in search results.
The success of SEO (Search Engine Optimization) can be measured using various key performance indicators (KPIs). First of all, ranking in search results is a crucial indicator: a better position in search engines generally leads to more organic traffic. Organic traffic itself is an important KPI, as it measures the quantity of visitors coming from search engines. In addition, keyword analysis measures the relevance and quality of the traffic generated. Next, the bounce rate and average session length on the site reflect visitor engagement. Finally, conversion, whether linked to sales, registrations or other objectives, is the ultimate indicator of the success of an SEO strategy. By combining these KPIs, we can evaluate the overall effectiveness of an SEO campaign
What is the average time taken by your agency to design a website?
The average time required to design a website depends on the complexity of the project and the client's needs. In general, it can take between 4 and 12 weeks to create a complete website.
It all comes down to your choice of website designer. In general, traditional web agencies or freelancers focus on large-scale projects spanning several months, which means relatively long lead times. These timescales are generally shorter when you opt for the express option with us. We can complete your web project in a very short time (without any validation steps).
At Webdispo, we're committed to getting your website online in just 25 days, provided you're responsive. Content management is not included, unless you opt for this service by entrusting us with web copywriting. In fact, if you prefer not to worry about it, we can take care of the whole process! What's more, if you need to build a website quickly, our "express" option means delivery in just 7 days.
You can build a website online quickly?
Building a website quickly and professionally is a guarantee, and we're here to meet your needs, even when time is of the essence.
Our team excels at creating professional websites, whether under tight deadlines or in emergency situations. Whatever the situation, we're ready to rise to the challenge. All you need to do is contact us quickly to discuss your project, and we'll put our expertise to work for you from start to finish, in record time.
How do you manage web projects with customers?
We use online collaboration tools to facilitate exchanges. We are also available by phone and email to answer customer questions.
Managing web projects with customers involves several key stages. First, an initial phase of consultation and understanding the customer's needs is essential, followed by the definition of clear objectives and detailed specifications. Next, a schedule is drawn up to organize the design, development, testing and deployment stages. Regular communication with the customer is crucial throughout the process to ensure that expectations are aligned. Revisions and adjustments are made based on customer feedback. Finally, once the project is complete, a training and support phase may be required to ensure a smooth transition to website or mobile application control and customer satisfaction.
Why use the WordPress CMS for website design?
WordPress, a robust content management system (CMS), is the ideal solution for creating professional websites that are both fast and user-friendly. WordPress websites are renowned for their ease of management and updating, offering a wide range of features and services. Whether you're designing a simple blog or a complex website, WordPress can adapt to any project.
Installation and use are intuitive, even for beginners. With WordPress, you can easily create pages, publish articles, integrate multimedia content, customize menus, widgets and themes, and enhance your site's functionality with various extensions.
What's more, WordPress benefits from comprehensive documentation and an active community ready to solve any problems you may encounter when creating your website. At Webdispo, we specialize in custom WordPress website design, tailored to your specific needs. We're ready to help you develop a professional site that reflects your business and guarantees an exceptional user experience. We can also set up analytics tools to track your site's traffic and performance. In short, if you're looking for a powerful and flexible CMS to create a website, WordPress is an excellent choice, offering a range of features, easy customization, and fast, lasting results. Contact us to find out more about our WordPress website design services
How much does it cost to build an e-commerce website?
The creation of a merchant website generally requires a higher budget than that of a showcase website, due to its technical complexity and the time needed to configure the e-commerce solution. It's also important to note that, depending on the options you choose, an e-commerce site may entail additional costs, particularly logistics costs, depending on the type of products you plan to sell online.
At Webdispo, we specialize in creating e-commerce website using the WordPress solution, accompanied by the Woocommerce plugin, designed specifically for online sales. For more information, please visit our page dedicated to the creation of your e-commerce website.
How do I maintain my website?
We offer website maintenance services to ensure the security and stability of your website. Our experienced team can help you prevent problems related to hacking, hacking and phishing by performing regular security updates and monitoring your website in real time. We strongly recommend an annual maintenance contract to ensure continued protection of your WordPress site or any other website we've created. This maintenance also includes preventive measures to avoid hacking and vulnerabilities, ensuring our customers' peace of mind all year round.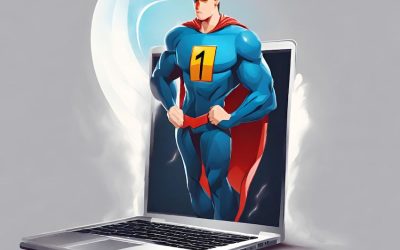 Appearing on the first page of Google is essential for any business looking to increase its online traffic and visibility. Positioning your business on the first page of Google allows you to attract qualified traffic and enhance the credibility of your brand. Internet...
Subscribe to our Newsletter
Sign up to receive the latest news about digital marketing and our web agency